Construction Methods and Prices
| | |
| --- | --- |
| uppers cut out | uppers dyed |
The first step in making our shoes is cutting out the uppers. This is done by hand, using historic patterns made by hand. This is the case with all our shoes. The uppers are then dyed according to the color desired by the customer.
| | |
| --- | --- |
| uppers closed side view | uppers closed front view |
Once this is achieved, the quarters are sewn together and the counter is glued and sewn in. The vamp is then sewn to the quarters. Sewing the uppers together is called closing.
| | |
| --- | --- |
| uppers lasted view 1 | uppers lasted view 2 |
The inner sole is then cut and tacked to the bottom of the last, with the smooth side against the last. The upper is soaked in water to achieve saturation and the shoe is lasted, or stretched over the last and tacked to the inner sole.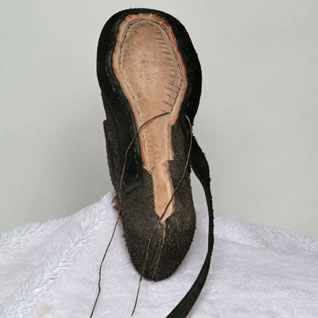 welting
The welt is added and the upper, welt and inner sole are sewn together. The space between the inner sole and the finish sole is filled with material and the finish sole is added and sewn on. Once that is accomplished, all that remains is to add the heel and trim the sole and heel. The last is pulled and the shoe is ready to be tried on.
Available Styles
| | |
| --- | --- |
| Pilgrim Shoes | Colonial shoes |
| men's pilgrim shoe | men's 18th century shoe |
| grey pilgrim shoe | men's 18th century suede |
| men's buckle | blue colonial shoe |
| women's brown pilgrim with ribbon | red colonial shoe |
| men's wingtip | ladies wingtip |
Pilgrim and Colonial Shoes
are available in the following construction options:
FULL-WELTED SHOES start at $275
The first pricing option represents a modern shoe with a historic upper using left and right lasts. The upper is machine sewn and lasted by hand. Cork filler is added for stability and comfort after the welt is machine stitched on. Modern cements are used in conjunction with machine stitched soling methods. The rubber heel is attached using cement and heel nails.
All our men's shoes are constructed rough side out, which is historically accurate. The nap is laid down with gum tragacanth, smoothed with a hot iron, and finished with shoe polish.
FULL-WELTED SHOES ON STRAIGHT LASTS start at $325
If you want a more historically accurate shoe shape, you have the option of getting a full-welted machine sewn shoe on a straight last. These shoes have stacked leather heels held with wooden pegs, as did most colonial men's shoes.
LADIES COLONIAL SHOES start at $350
These shoes are constructed with the suede side out; they can be either be worn as suede or the nap can be laid down to accept polish. The period correct Louis heel is handmade from carefully selected hardwoods and then covered with leather. The latchets can be modified to accept decorative lacing of your choice. These shoes are available in blue and red. They are also available in black with the added cost of $25 to polish the shoes as described above in the first option of full-welted shoes.
HANDMADE THROUGHOUT - $800
This straight lasted shoe is our ultimate in historically accurate footwear. The shoe is made entirely by hand, using methods and tools proven by master shoemakers for centuries. The difference is that I use modern cement and polymer based threads, which last longer than the historically accurate materials. The thread will not break down as fast as the cotton, linen, or hemp threads used by our predecessors, but it provides a visually accurate shoe.
OPTIONS:
Thin rubber half soles to help avoid slippage: $25-$35 depending on choice of half sole
Stacked, wooden pegged heels: $35
Fitting the Shoe
Proper fitting and well-constructed shoes are essential for comfort and durability. The "trace your feet and send it" method of sizing your feet from a long distance is too unreliable. Rather that selling shoes that don't fit and thereby creating dissatisfied customers, we have changed our policy to sell shoes only if you try them on in our presence. Both the buyer and the seller need to agree that the shoes fit properly.
We also install the buckles while the shoes are on the feet in order to achieve a correct fit.
Shoe Care
Shoes are made of leather, and leather eventually breaks down. Everything wears out, breaks, dies, rusts, etc. There are things we can do that helps to prolong the use or functionality of an item - we change the oil frequently in our cars and paint our houses.
Leather can be preserved rather easily. It must be cleaned when it gets dirty and it must be moisturized. The former is accomplished with a stiff brush, and the latter is accomplished by using any one of several products. One of the most standard is neatsfoot oil, applied with cloth, dauber or paint brush. Some use saddle soap, which comes in either paste or liquid. It cleans the leather as well as moisturizes it. My favorite product contains beeswax and comes in a paste form. It is applied to the surface and then melted into the leather by applying heat, as with a hair dryer. I like to apply several layers, which I follow with a thorough buffing.
I hope you find Gossville Shoes as satisfying as they are intended to be.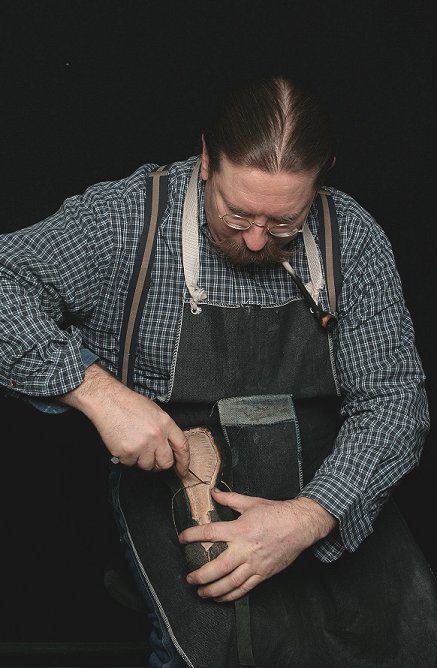 Bruce Graham
https://www.facebook.com/gossvilleshoes/

Village Green Clothier.com